georgia animal rescue & defence, Inc.
Adoption Policy for Active Military
In the past decade, the call to arms of our military service members has increased causing men and women of the Armed Services to have to constantly deploy, sometimes unexpectedly, and sometimes much longer than initially anticipated. Even in the growing peacetime environment, military members are increasingly being used in the global environment. This has a substantial impact on the families of those service members; even those with four legs who are usually under recognized.
Military members who own pets (cats, dogs, or other) face unique challenges in being responsible pet owners while also being able to serve their country any way needed at a moment's notice. Their service can come into conflict with their ability to care for their pets. In the past, this has unfortunately led to many pets being surrendered to animal shelters for lack of better options.
Permanent Change of Station (PCS) is a military commanded move where a military member, and potentially their dependents, is ordered to move from one duty station to a next. These moves may be an internal move within the 50 US States, or a move to an international country. Typically, a PCS has no restriction on the ability for pets to accompany a military member, with the exception of some jobs which are unaccompanied (no dependents or pets allowed). Travel and health requirements for pets are not usually covered by the US Government and is at the expense of the owner. Pets may travel by air or by ground/personal vehicle, depending on the service member's travel orders. PCS moves may prompt a pet being relinquished due to a variety of reasons. Owners may be on unaccompanied orders and unable to take their pets with them. Owners may be moving to a county or country where the breed or type of pet they own is banned. Owners may be unable to afford the cost to ship their pet, especially overseas (though there are organizations that provide financial assistance). Owners may be required to live in base housing at their next duty station and may be over the maximum pet limit or own a banned animal. Lastly, and a most unfortunate truth, is some owners do not want the hassle of moving a pet with them.
Deployments are military ordered trips to overseas ports, bases, ships or operating areas in support of the US' foreign policy. Deployments typically last 6-12 months, but may be shorter or longer, and are subject to change at any time. Because of this unreliability of scheduling, which is an accepted risk of military service, pet ownership may be difficult in a constantly changing environment, especially for service members who do not have a family support system. Military members may relinquish their pets before a deployment because of a plan that fell through, lack of options or lack of education. In our experience, in most cases after adopting to an active military member or spouse, we hear of military pets that are surrendered by the caregiver entrusted by the military member when the owner or even family member is deployed.
Due to this, we are reluctant to adopt to active military.  Being part of the military is an honor which we fully respect but we are obligated to look into the pet's future and make sure they are being placed in the perfect forever home.  This is not to say we will not adopt to active military, but the adoption process in this situation does require much more attention and patience to ensure this is the best fit for all parties involved.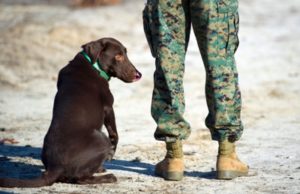 It is important to recognize the difference in those owners that care deeply for their pets and truly do not know of other options, and those owners that are seeking an easy way to rid themselves of an inconvenience. Reflecting the general population, most military members are responsible and loving pet owners, but there still exist those that do not view their pet as a permanent family member. This is not to say all military members are bad pet owners. No matter what the attitude of the pet owner, shelter staff should always offer options other than relinquishment. Having a thorough knowledge of military-pet support organizations, such as Dogs on Deployment, can help military members make an educated decision in the future of their pet. This knowledge should also be passed on to any military family before an adoption by the shelter is made.
Ensuring a pet is never needlessly surrendered starts at the source of the adoption. We hope that shelters/rescues, if manpower permits, will spend a bit extra time with military families considering adopting a pet. Ensuring that all adopters realize a pet is a forever commitment is important, but especially in the military community where a constantly changing living situation may cause pet ownership to be challenging.
Military members nation-wide confront a multitude of problems during their careers, the last thing they need to worry about is their pet's care during their service commitments. Dogs On Deployment is a 501(c)(3) national non-profit which provides an online network for service members to search for volunteers who are willing to board their pets during their owner's service commitments.
THIS INFORMATION STATED BELOW CAN BE FOUND ON THE INTERNET ON DOGSBITE.ORG
Policy for Privatized Housing Under the Army's Residential Communities Initiative (RCI) Privatization Program
1. The purpose of this memorandum is to forward the Pet Policy for privatized housing (attached), as developed by the Privatization Partners, for tenants in RCI Housing developments. This policy is in response to the Army's request for standardization regarding pets in privatized housing. It takes into consideration the safety, welfare and quiet enjoyment of all residents in privatized housing and was developed with input from current residents, Garrisons and this Headquarters.
03/16/09: Pet Policy Adopted for RCI Privatized Housing
In January, the U.S. Army standardized its pet policy, banning breeds deemed "aggressive or potentially aggressive." The breeds (and their mixes) include: pit bulls, American staffordshire terriers, bull terriers, rottweilers, doberman pinschers, chows, wolf hybrids and any others that display a dominant or aggressive behavior. The U.S. Army enacted the new policy to prevent pet owners from encountering uneven policies when moving between installations.
DogsBite.org expresses great gratitude to the U.S. Army for taking steps to prevent future victims from suffering serious and fatal attacks from these types of dogs.
Prior to the new U.S. Army Pet Policy, Fort Hood had enacted a breed ban on its own. Officials began examining breeds after the fatal attack of 11-year-old Seth Lovitt. Seth was suddenly attacked and killed by the family pit bull after the dog jumped off the couch and bit him in the neck. Upon reviewing post records, officials found that in the last six years, 68% of the dogs declared dangerous were pit bulls. Rottweilers, in a distant second place, accounted for 8%.
The new U.S. Army Pet Policy was disseminated to installations in January. DogsBite.org has provided a list of installations governed by the Residential Communities Initiative (RCI) that must abide by the new policy. There may be additional facilities that we have not listed as well.
Fort Bragg, NC
Fort Belvoir, VA
Fort Benning, GA
Fort Bliss, TX
Fort Campbell, KY
Fort Carson, CO
Fort Detrick, MD
Fort Dix, NJ
Fort Drum, NY
Fort Eustis, VA
Fort Gordon, GA
Fort Greely, AK
Fort Hamilton, NY
Fort Hood, TX
Fort Huachuca-Yuma, AZ
Fort Hunter AAF, GA
Fort Irwin, CA
Fort Jackson, SC
Fort Knox, KY
Fort Leavenworth, KS
Fort Lee, VA
Fort Leonard Wood, MO
Fort Lewis, WA
Fort Meade, MD
Fort Polk, LA
Fort Richardson, AK
Fort Riley, KS
Fort Rucker, AL
Fort Stewart, GA
Fort Sam Houston, TX
Fort Schofield Brks, HI
Fort Shafter, HI
Fort Sill, OK
Fort Story, VA
Fort Wainwright, AK
Aberdeen PG, MD
Carlisle Brks, PA
Hunter AAF, GA
Picatinny Ars, NJ
Pres of Monterey-Naval PS, CA
Redstone Arsenal, AL
Walter Reed AMC, DC
West Point, NY
White Sands MR, NM
Phone & Email
PH: (please email us)
gardkm@gmail.com
Address
100 Dichroic Dragon Dr.
Pembroke, GA 31321
Take I-16 to Exit 137 (Hwy. 119). Go south towards Pembroke, GA. We are 2.3 miles on the left.