Georgia Animal rescue & defence, Inc.
Adoption Policies
Adoptions are not first-come-first-serve, but are based on the best fit for an animal's particular needs. We are an all volunteer organization and spend many hours reviewing applications, checking vet references, etc.
We adopt out in the eastern U.S. Approved adopters need to make arrangements to pick up their new pet.
We may be unable to accommodate same-day adoptions. Please plan on scheduling an appointment with an adoption coordinator to finalize the adoption. Due to the influx of applications received daily, we ask for you to allow us a minimum of 72 hours to process and approve your application.
All members of the family must be present in order to adopt. We want to make sure it's a good fit for everyone! (Certain exclusions may apply)
You must be 25 years or older to adopt. Please bring a valid form of I.D.
Renters must provide a copy of their lease (including pet policy). Home owner's must provide a copy of their HOA agreement (if applicable)
Townhome/Condominium owners should be familiar with their HOA by-laws, including restricted breeds, weight limits, and maximum number of pets allowed.
Adopters must be willing to allow a GARD representative to make a follow-up contact, either in person or by phone.
Spaying/Neutering of cats and dogs through any humane organization is state law
If at any time you are unable to keep the pet or offer it proper care, it must be offered back to GARD before alternate arrangements are made.
A perspective adopter's current pet(s) must be current on their veterinary care AND be spayed/neutered. The current pet(s) must also have a consistent history of annual vet care.
Applications must be completed and approved prior to adopting an animal.
If approved, an applicant must sign a contract to adopt an animal which outlines the responsibilities of the shelter and the adopter. This contract is legally binding.
Active military members MUST provide an approval letter with permission to restricted breeds.
Renting with Cats: Since we want to make lifelong placements for our cats, we ask that adopters make sure their landlord allows cats and to pay any pet deposits in advance of adopting.
Renting with Dogs: Since we want to make lifelong placements for our dogs, we ask that adopters make sure their landlord allows dogs and to pay any pet deposits in advance of adopting.
**FOR ACTIVE MILITARY – PLEASE REFER TO OUR ACTIVE MILITARY ADOPTION POLICY**
We may have additional adoption policies or requirements not listed here, as well as adoption requirements specific to each individual pet and their needs. These things will be discussed with you if you place an application for adoption with us.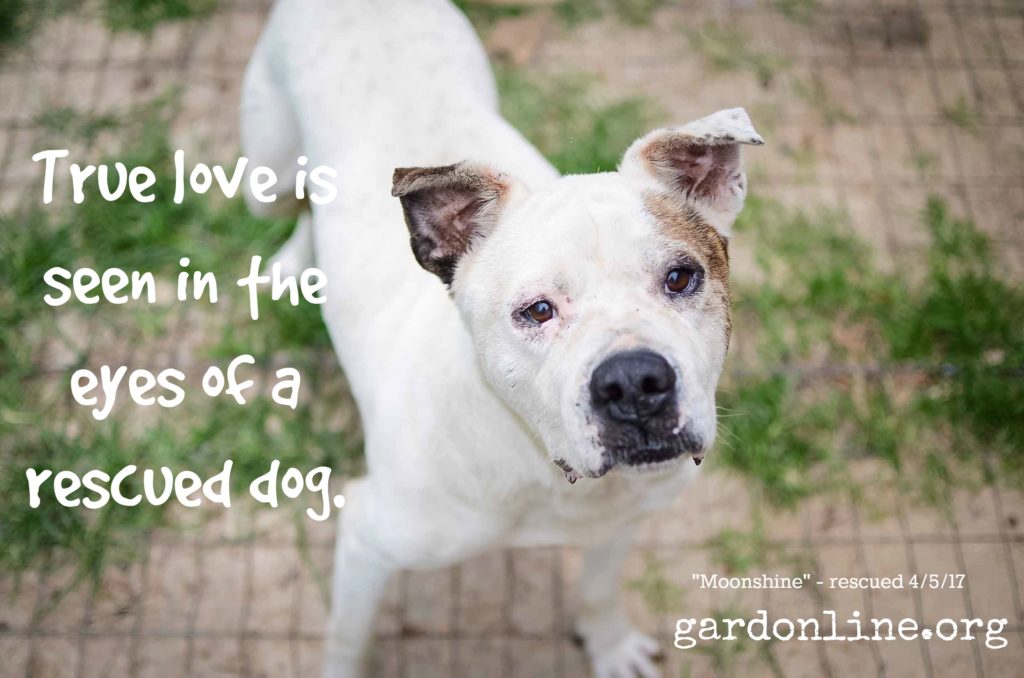 Some Important Things to Consider Before Adopting a Rescue Animal
Adoption of a rescued pet incurs some specific and sometimes weighty commitments and responsibilities. Taking on a rescued animal is more of a charitable endeavor, a sort of anthropomorphized form of philanthropy if you will and understanding exactly what it is that we do (or do not do) will give you a better insight into what adoption may entail. Georgia Animal Rescue and Defence, Inc. is a rescue organization in the truest sense. We do not hand pick select pets to make a showy offering of placing them in homes. In keeping with our overall philosophy that all animals deserve and require love and humane treatment, we operate a down-and-dirty, grassroots rescue effort, sometimes pulling puppies from dumpsters or literally digging them out of fox holes in order to secure for them a better life, a life worth living. This effort also includes rescuing numerous animals from their anticipated fate at the Animal Control shelters, euthanasia. To date, none of the local shelters have a no-kill policy and for any animal that finds itself unfortunate enough to be placed there, the clock is ticking, they are on death row. These are primarily the animals that we strive to salvage and save, the exceptions being aggressive, vicious animals or those that are so ill that medical intervention would be impossible or highly impractical.
That said, this is what you might expect when securing a rescue animal from GARD; we make every effort to socialize animals as time and circumstances allow. Some of our placements are discarded or unwanted house pets or breeder animals that require little other than some basic nurturing to help them overcome their recent episode of homelessness. Others have been traumatized, abused and neglected and require much more intervention, we sometimes keep them for weeks or months, working with them to overcome their problems. The greatest majority of animals respond more than favorably to rehabilitation and recuperation and we have had many, many success stories. We have received numerous calls, letters and emails from folks who have had the fulfilling experience of rescuing an animal from an undeserved fate and were rewarded with an exceptionally loving and devoted companion. This is the scenario that we seek to achieve with all of our rescues.
Given a lot of rescued animals' past history of neglect, one could expect some medical issues to present themselves. Once again, we diligently seek to weed out and treat health problems as they evidence themselves and no known sick animal is placed with an individual who is unaware of their condition (we have placed animals with long-term medical issues in homes with people who have opted to take on this burden and provide them with special care for the rest of their lives). We make every effort to identify potential problems and to treat animals as finances allow but we are not only a rescue group in the strictest sense but also equally non-profit. We spend hundreds of hours (on the road, cleaning and feeding at shelters and working with fostered pets at home and elsewhere) and thousands of dollars from limited and dwindling resources to do the best for these unwanted pets but we cannot do it alone and need your help. We provide every animal with initial vaccinations and worming as well as hold them for observation to help identify and treat any issues that may be present but it is financially impossible for us to provide each individual with extensive veterinary testing and screening in return for a requested charitable contribution to our efforts. When you adopt a rescued pet, you are assuming responsibility for a lifetime of care as we have personally done with scores of rescued animals over the years. In the unlikely event that an animal has previously undetected problems that require heroic efforts, we offer you the option to return the animal to us for appropriate care and treatment. We do not offer you the option of euthanasia as a means of coping with an unexpected problem but will make every effort to make the best of the situation for everyone involved. 
Obviously, this is not an endeavor for everyone nor one to be taken lightly and we urge you to give the matter careful, realistic consideration before any decision is made. If you do decide that your circumstances, ideals, and finances coincide with these realities of rescue, we will do our utmost to try to match you with a pet that is most suited to you and your lifestyle. We will also offer our heartfelt thanks for having done a wonderful thing on behalf of a less fortunate creature and our hope that you will be rewarded with the love and companionship that you deserve.
Phone & Email
PH: (please email us)
gardkm@gmail.com
Address
100 Dichroic Dragon Dr.
Pembroke, GA 31321
Take I-16 to Exit 137 (Hwy. 119). Go south towards Pembroke, GA. We are 2.3 miles on the left.