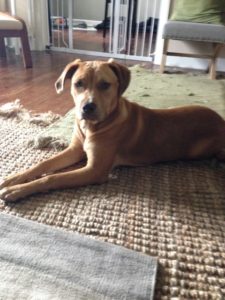 Hello!
We adopted Addie – who is now named Reya because my niece is Addie – on May 16 at the PetSmart adoption event. I wanted to let you know that she is doing really well! She is still quite scared of many things, but her confidence is growing faster than I thought it would. She once stuck to a safe corner in our dining room, but now ventures about the house and enjoys running in the backyard. She is a cuddle-bug and a loyal girl. She also took to house-training and we had very few accidents. She loves her safe, comfy crate (for positive training and quiet time, not a jail!). Her vet check went very well. She is healthy, just very timid. I wanted to let you know how she was and send along some pictures of her getting comfortable in her new home. She is getting along very well with our two cats and our Shepherd mix.
Only time will tell if our Shepherd mix (LuLu) will truly be getting along with her. They enjoy each other's company, but Lu has been an only dog for two years. Unfortunately, LuLu is anxious when Rey scatters. And, because we have the best luck (of course!), Lu needs to be on antibiotics at the moment. Being understandably cranky and tired, Lu snapped at poor Rey one evening. There were no injuries, thank goodness. Reya was very confused about it, but we took the right steps to get them back on track. I am meeting with a trainer tomorrow to see how Reya can benefit, because even at about 6-8 months now she is probably behind a puppy in confidence and obedience. But she is the sweetest and most loving dog anyone could ask for! So I'm hoping a proper trainer can help us with the bigger issues and get little Rey feeling good about herself, as she should!
Hope all is well with GARD! Your volunteers were wonderful to work with and very helpful. I was so impressed with the kids, too. They asked for lots of pictures, and unfortunately I am sending way too many. But I'm so proud of how far this dog has come and you all should be too! She went from a trembling bed-ridden pup and, well, you can see from the pictures that she made it out of that corner! Thank you for this sweet girl (who snores like a grown man!).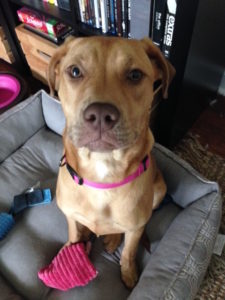 The pictures are in order from when we brought her home. Hopefully there is a big difference between the first and last!
Wishing you all the best,
Sandra Posick and Addie-now-Reya Posick