We had Samantha for almost 2 YEARS at the kennel. She was shy and just needed the right person willing to work with her. Here is her happy tail along with some updates…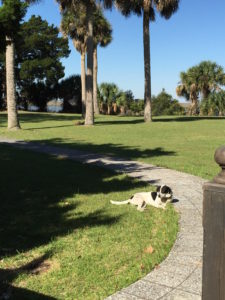 Joy,
I am about to print out the contract, sign it, and send it your way. Please return a signed copy at your convenience. Also, please let me know what amount to deposit for the adoption fee. I would like to reimburse you for the leash, harness, and any other reasonable costs you see fit. Further, I am so grateful for the work you do and I am so happy with Whisper who I have renamed Sam (short for Samantha). Although I will have to wait until the end of the taxable year (December), I came hoping to make a donation to your organization from a charity that I work with. You should hear from me in November regarding this.
An update:
As you remember Whisper/Sam was extremely shy. As expected for a shy dog, at first she was shaking, confused by new surroundings, unsure of me, and kept her tail tucked between her legs for the most part. I was ready to do whatever it would take to help her learn to trust me. I had no expectations for a speedy transformation. On the second day with her I brought her outside on the leash. As soon as she started walking away from me and felt it get tight she freaked out then laid down too afraid to move. She didn't know me yet and didn't trust me. I would NEVER pull on her leash. Instead I just went at her pace. If she wanted to get up and walk, then we would start moving, if not, we just sat there. I bought a much longer leash to give her some space.
Although I bought her a crate (safe zone) and put it at my bedside at night I could sense she was a social girl and might have thought it was a punishment. I only used it for one night. After that I just put her dog bed by my bed. Fast forward a week, I walked into my room to go to sleep and she was on the bed. I've read about establishing yourself as the alpha and how people say not to share the bed with your dog. However, this is not a problem animal, she just needs love. I saw this as an opportunity to bond. She now curls up with me every night.
After she had gotten used to the leash and going on walks I took her to one of our old fenced in cattle pastures to see if she would try to run away from me off the leash. It was one of the first times I saw her acting like a dog. She chased a deer, leaped and bounded all around, tail wagging and a big smile on her face. After some exercise I whistled and she came right back. I opened the door on my truck and she hopped right in. When I'm on the island in GA we now go on walks without a leash (never unsupervised and never near any ponds). She won't go more than a certain distance away from me and her tail is always up in the air… loving it. If I change directions, she follows me. Same thing inside. She follows me everywhere. Of course when in Charleston and not in the yard, she's on a leash for walks, but she loves the freedom of running around in the yard and lying in the bushes.
It took me a couple of times to find the right food for her but she seems to love the Purina Pro lamb and rice. I hope that's ok? Not to give too much information but it's the first brand that she really seem to like and it gives her solid stools. Also, she's only had one accident in the house. It was in the beginning when she was nervous about going to the bathroom on the leash. I think she was afraid I would get mad, but it was no big deal. She's realized I'm not going to hurt her and she has really bonded with me. Yesterday was her first day at the beach. I'm sure it was overwhelming for the first time but she played around for a few minutes and then hopped back into the truck, which she feels safe in. She's such a sweet girl.
It's amazing how quickly she's come out of her shell. She's definitely still shy when it comes to new people, but after a few hours she warms up to them. Especially when she sees me interacting with them. She loves other dogs. Not a mean bone in her body. I love this girl and I'm very proud of her! Thank you for everything.
Attached is a photo of her enjoying the sun as I write this e-mail to you.
Best,
Jay
UPDATE:
Hi Joy! I hope all is well with you. I'm sorry it's been a while since my last e-mail but just wanted to send you a picture of Samantha lounging in the sun in Charleston.
Also, wanted to let you know I took her to Cedar Animal Hospital in Richmond Hill last month for a checkup and she is 100% healthy! The Vet listened to her heart, lungs, did another heart worm test, gave her a parvo shot, and trimmed her nails. She's also on monthly flea/tick and heart worm medication/tablets.
She continues to bond with me and sleep on my bed every night. She LOVES to chase deer when we are in Georgia. She's extremely fast which give the deer a bit of a scare, but I don't think she'd know what to do if she ever caught up with one. Just loves to chase them into the woods a bit and bark at them. It's been cool to hear her bark as she is not usually vocal. She also loves other dogs as I may have mentioned. Her tail (which was almost always tucked when I first got her) now wags every day. When she picks up on a scent her tail goes straight up. She loves to follow her nose, but won't leave my sight (unless she goes for the deer). She always comes back within a minute or two. It's so awesome to see her being a dog!
She's still shy around other people and is most at ease when it's just the two of us. However, she continues to make improvements and I am continuing to introduce her to social settings for short periods of time. In Charleston we do normal things like walks on the leash or going for a drive. She feels safe in the truck. I've left her at home by herself for an hour just a couple of times. When I come back I'm greeted by tail wagging and this little happy jump/leap thing she'll do. She hasn't had any accidents inside and she doesn't chew anything up. She does like to collect socks and drop them on her dog bed kind of like a trophy. It's cute. For the most part though she comes with me everywhere. I'm very proud of her!
Enjoy the pic and I hope all is well.
Best,
Jay