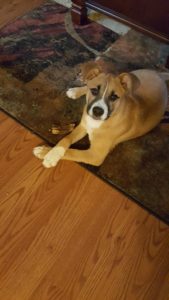 Hello,
I just wanted to share some information about Duke & Daisy (Bart & Lisa).  These two characters were the exact puzzle pieces our family was missing.  Although we have only had them for 2 weeks, we couldn't imagine life without them.  They fill our hearts with so much love and joy.
After the first week, Daisy became pretty sick with severe diarrhea and bleeding.  We took her to the vet immediately.  Both Duke and Daisy were thoroughly examined with many tests.  They were found to be in top notch condition.  She was just having some tummy issues due to the change in food and environment.  Having said all that, I want to give great KUDOS your shelter for providing EXCELLENT care for these animals.  The love you have for them shines through in the care they all receive.
Thank you for giving us the opportunity to fill our hearts with such wonderful creatures.  These 2 really are pure perfection.
Regards,
Suzann & Jason Benton