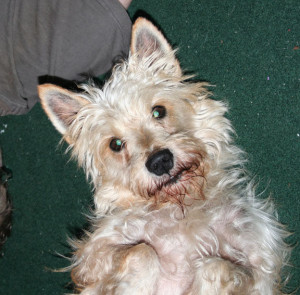 Dear Joy,
Just wanted to drop a line and let you know how "Charlie/Murphy/Cookie"
is doing. Truth is he doesn't answer to anything – he just always comes
when he hears my voice. Cookie is doing great, he is a cute as can be,
and adjusting very well. He is working through his "issues" and most of
the time is just plain silly. His male aggresion has really lightened
up since his "adjustment", and he is much more relaxed. He is still a
runner however, and, probably always will be. I will attach a recent
photo. We are enjoying him a great deal and he is a good companion, a
shadow couldn't stay closer. Also, he is a very good eater and may even
be getting a little chunky, it looks good on him.
Have a great summer. I haven't forgotten your invitation to help with
the adoption fairs. I would love to help as soon as I get some fires
put out here at home. It would be my pleasure.
Blessings,
Diane