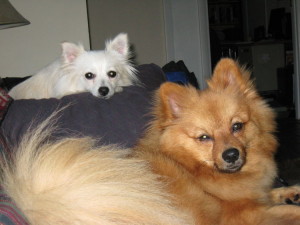 Hello-
Wanted to send ya'll a picture of Copper, whose names now Cooper due
to me being unable to get 'copper' out of my mouth whenever I would go
to call him!  Tounge just wouldn't rap around it!
He is doing wonderful, just the best behaved rescue dog i have ever
seen.  He is fast on his way to becoming spoiled rotten — and he
loves it!  He has learned that the small white fuzzy puffball that
keeps licking him is his sister and they are getting along fabulosly
now.
We want to thank ya'll so much for having the perfect dog we were
looking for, right when we were looking.
Greg and Lauren
(& Cooper and Lola) : )