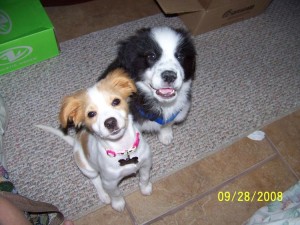 Barley and Mason had their check up yesterday and everyone is doing great.  Barley is on her
last round of ALBON for the cocidia and she now weights 7.2 lbs and is in perfect health.  He is just giving her the Albon to make sure the conccidia isn't lying dormant in her little system.  Mason is a
whopping 11.9 lbs and is turning into a beautiful boy.  He loves his training treats.  They both sit, down, high five and RUN.. BOY DO THEY RUN!!!!! lol  Thanks again for such wonderful babies.  See attached pics taken a few nights ago when they wanted on the bed (which of course is where they sleep).  Will send more pics once we get out and about with them.  They finally have their last round of shots and can go out and about. Can't wait to see how they react to parks and camping
etc.