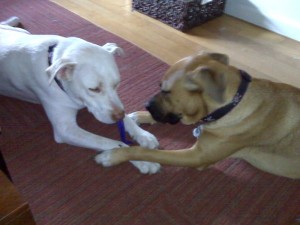 Hi Joy!  It was so nice to see you today at Cedar Animal Hospital.  You were right when you said our girls missed us!  They'd only been in boarding 2 nights, as we had family in town that can't handle big lovins.
Attached are more pics of Clover, the flower child, butterfly-watcher.  Belly rubs, hangin with her sis, and her favorite… thinkin she's Flower from Bambi.
She knows you love her and was very excited when you came out to the truck to see her off.  We love ya too and thank you for our precious little baby.
Chelsie & Jarrett