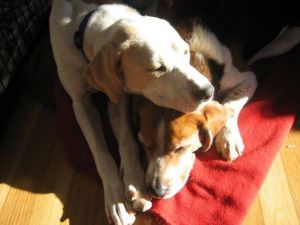 Joy,
I finally have a few minutes to sit down and send you a thank you note and a picture of our new baby from GARD. We got "Gina" (now Sophie) a month ago and she has been an absolute blessing for our family. As I mentioned in my application, we had recently lost our 9-year-old lab/pit bull mix to prostate cancer. It was devastating to us, and our 6-year-old beagle Spenser also took the loss of his life-long buddy very hard. He was suffering from extreme anxiety home alone during the day, to the point of even clawing through a screen window and trying to jump out of the second story! I was so nervous about adopting a dog from another state based on a picture and your description over the phone – but it couldn't have worked out any better. Her temperament was everything you said it would be, and (most importantly) Spenser accepted her immediately. His behavior since we got her changed almost instantly for the better. I brought her to work one day and he reverted right back. (Incidentally, she was a doll for a full 8 hours at work – everybody loved her, she was so friendly and well-behaved!)
Sophie came crate trained, is great in the car, friendly with other dogs and cats, loves all people, and took about two days to learn sit, lie down, and stay. It took three days for her to figure out that her food bowl is the one on the left, and she and Spenser have to wait in front of their full dishes until I release them from their sit. Everybody is blown away to hear that she is a rescue dog and I have had her for so little time. Most of them think she must be some kind of special breed, she's so beautiful – especially now that she has put on some weight and been to the groomer. They all think she is lucky to have been rescued, but I am more inclined to believe that my husband and I (and Spenser) are the lucky ones.
A big thanks to you and everybody at your organization who helped to bring her into our lives. Sophie is certainly a walking testimonial to your program for placing dogs "up North." When I saw her picture online I could see my old dog in her eyes, the way he looked at me in the pound all those years ago. No dog can ever replace the ones we lose, but by giving us the opportunity to give another dog in need a home we have been able to find some meaning in his early death. Our "family" is complete again! 🙂
Best wishes and happy holidays!
Cordelia, Andy, Spenser, Sophie + the cats