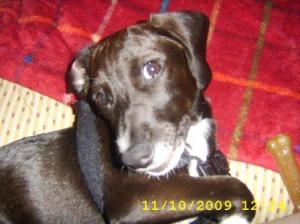 Hi Joy,
I wanted to take the time to give you an update on my new baby Remy (latte).
After making the long ride from GA to CT Remy was a little tired and received some much needed TLC. I am absolutely in love with her! She is such a ball of energy during the day and a cuddle bug at night I absolutely love her kisses!
She fits right in with our family and walks well on her leash. She enjoys all the new toys I have spoiled her with.
Remy says "thankyou for everything you did for me. I am very happy to have my forever home."
Jennifer K.