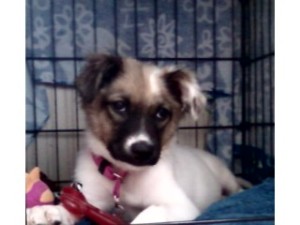 Hi there.
I adopted Mandy (wheaten terrier mix, aka Teddy, we think the mix is border collie or shepherd) from you back in June. We have had her for 3 months and she is just about 6 months old.
Just to let you know, she is doing wonderfully. I feed her good, holistic and natural foods and sometimes raw (my sister feeds her boxer raw and she is a beautiful dog).
She is a fantastic, beautiful, calm pup (at least until my 7 yr old son Josh gets home from school). She is able to run outside with supervision (adult only) without going into the street. She was 12.? lbs when I got her, now she is probably close to 30 lbs. We just love her to death and she is a happy pooch.
Thank you and have a great day.
Regards,Dawn C.