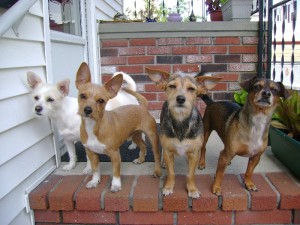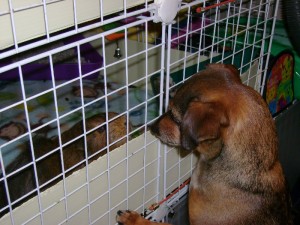 Hi Joy,
Just wanted to give you an update on Mikey (Murphy), and he is doing wonderful. He is just a love and I have to say, out of all of our dogs, he is the best behaved and does whatever he's told. He's the first one to go outside and the first one back in. And he loves to go for rides!!
I recently had knee surgery and had to kennel our other three dogs for a week so that I could take it easy and we kept him with us. He stayed with me the whole time. He wouldn't leave my side, not for a minute. And I now work from home and he stays with me in my office while I work.
In one of the pictures, he has taken a liking to one of our guinea pigs, Cocoa. He absolutely loves her!!! We have a three floor cage and usually rotate the pigs between floors, but we can't move her, he'd be heartbroken!! He stares at her all the time and tries to give her kisses. I'm surprised at that, he's a little stingy when it comes to giving kisses. He usually only gives them when we come home and he's happy to see us. 🙂 She really likes him too. She was a rescue also, her previous owners kept her in their cellar for two years all alone. She has plenty of company with him now.
The other picture is Kita, Benny, Pablo and Mikey on the back porch hanging out. They all get along great and we're so happy that we were on Petfinder the first night that we saw him and inquired about him. Thanks again.
Take care,
Carol