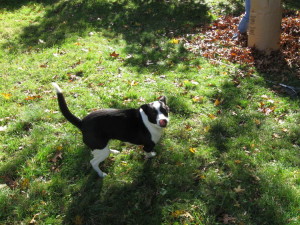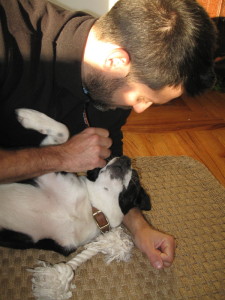 Cricket (formerly known as Miracle) is doing great! She seems to be house trained already, though she doesn't like to go outside unless she has someone to go with her. She has been playing with rag bones, booda bones with treats stuffed inside, and catnip toys- which seem to be her favorite! She also has been playing with "Corky", a stuffed dog my husband Brandon gave me when Corky was put to sleep after our first attempt at adoption. Today she will get her first pig ear to keep her busy because I am going to bring her to work with me. My office mates are really excited!
Cricket loves our cats! It is fun to see her muzzle our three-legged cat Mau. Mau splays herself out on the floor in the hopes of attention, and then gets more than she bargained for. Cricket has already pushed her luck with sleeping on the furniture, and so far she's won us over on everything but the bed, though she still sneaks up there sometimes. We've taken her for many walks already and people just LOVE her. And she loves them. Someone told us she had a nice shape yesterday. We brought her to vote and by the time we left everyone knew her name and yelled goodbye to her.
We've only left her alone a few times in the crate and she'll willingly go in, but when we come back she just melts on the floor and cries for about 15 minutes. We're trying to assure her we'll always come back for her!
Here she is helping Brandon rake leaves and playing with a new bone.
Thanks so much to you and everyone who helped with her! I can't believe what a good girl she is after all that she's been through!