Oscar came to us from Jones County Animal Control having been marked for euthanasia due to the fact that he was "vicious".  During his intake here at GARD, he was placed in a kennel with several other small dogs and, although he seemed to coexist with the other dogs allright, he would scream and snarl when approached by staff and try to bite them.  
It was during this time that I met Oscar while I was cleaning kennels.  Although he wasn't nutting up on me, what I saw was a dog who was too scared to move, I had to move him and the chair he occupied together in order to clean.  Oscar was a perfect picture of a dog who had all but given up and would have, undoubtedly, pined away(failure to thrive) but I did see in his eyes a glimmer of him still trying to reach out.  Taking a little time with him, I gained his trust and took him into my office/rehabilitation center where his trust grew and solidified to the point that he, under the right circumstances, could be considered adoptable.
Eileen, a vet tech in the northeast, came into the picture through an online response to his Petfinder listing.  Although I'd pictured Oscar's adoption as a process that would take place over time (as trust was established and built upon) here at the shelter, my correspondence with Eileen gave me confidence that she was understanding of his situation and up to the challenge.  Having immediately fallen head-over-heels in love with him, she has worked with him since on his remaining issues and has made fantastic progress.  Eileen keeps in touch regularly with updates of his progress and photos while Oscar, meanwhile, lives like a king!
 (The whole point of my story is that what we did here at GARD with little Oscar was just short of a miracle just to get him to the point where he could be considered adoptable but that was by no means the end of it.  Eileen fell in love with the face on the website and, when she realized that he needed further rehabilitation, rose to the challenge.  The loving care that she's put into him has been rewarded many times over.)
I will leave it up to your creative instincts as to how best use their story!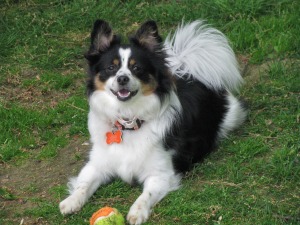 Hi Philip!!
The first thing I thought when I looked at CoCo  (aside from being beautiful) was "those are the eyes of a very smart dog! "   but they are actually both very bright looking!
Oscar is doing terrific!!! I could not possibly  adore him more.  I thought he was happy the last time I wrote to you  – He now wags his big bushy tail ALL THE TIME J  I can barely get to the back door when I ask him if he wants to go "outside"  he bounces up & down on me, then on the the door  before I can open it!  Although I still don't trust him with "strangers" .. he is  so much better then he used to be!!  One of the proudest accomplishments I have with him is he now "drops it"  – meaning a toy/rawhide.    He was hysterically possessive of his toys/chew treats.     I chose my  "battles" with him in the beginning,  primarily because my first goal was to gain his trust.   I waited until I had gained some trust with him, but I had NO DOUBT  he was going to bite me when I removed things from his mouth.  I actually wore thick winter gloves because even though it was a lot of hysterical growling/snarling, he did make a few attempts at me.    It is just so remarkable  & rewarding to me to see the change in him on this issue,  the dog who once would bite me,  grab his treat/toy & run away from me with it,  now drops what he has in his mouth & looks up at me wagging his tail J   I brought him to my condo in southern Maine for the first time 2 weeks ago & it was so heartwarming to see him run on the beach as if he were the happiest dog in the world!!! J J
The weather wasn' t   too good on the beach so I will send you some pictures  of him enjoying it another day.  The only aspect that I felt sorry for him was he was very worried  arriving to, and once at the condo.  He either followed me everywhere or hid under the bed, of course even though I felt sorry for him I am convinced he is a bit of an actor J.   I attached some pixs of him hiding!  I bought him a new stuffed animal & in one of the pix you can see he comes out long enough to grab it & bring it under the bed with him J   We stayed for several days & he was much more relaxed by the end of the week there.   I was going to shave his coat down a bit  to keep him cooler this summer & also between the two dogs  they  "sweep"  a lot of sand home!  but I wanted you to see how beautiful & thick his coat has become.   I call him my little "nordic  fatty"   still haven't mastered him stealing my other dogs food & treats but he is so active I am not to worried.  I may send  seperate emails to fit all the pictures in 🙂    I so hope things are going well for you, I'll be in touch soon with some beach pictures now that summer is (slowly) arriving here!
All the best,
Eileen & OSCAR