We received the following story from one of your adopters and thought that you would like to see it.
Thanks again for all that you do.
Mike
Petfinder.com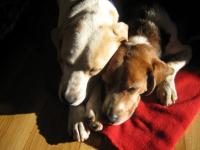 I saw Sophie's picture on Petfinder.com about a week after unexpectedly having to put down my 9-year-old pit bull/lab mix after a brief and horrible battle with aggressive prostate cancer. We weren't really ready for another dog but our remaining dog, Spenser, had been distraught without his best friend and we were faced with the decision to either medicate him or get another dog. She has been nothing but a blessing for our family. Sophie and Spenser immediately bonded. She is in love with our newborn son – we can't get her to stop giving him "doggie kisses." Thank god for this website because otherwise how could we have known our perfect dog was waiting for us thousands of miles away? Thank you Petfinder.com!