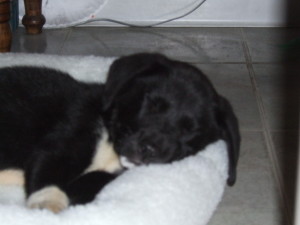 Hello to all the wonderful volunteers at GARD,
We adopted "Georgia" yesterday (5/22/10) from Tractor Supply in  Flemington, NJ. Joy will remeber us. My two daughters and I were there for about 2 1/2 hours. On the application I filled out, we had already named her "Dora." When we got home my husband was not too found of naming her after a cartoon character, so we put our heads together and named her "Georgia" in honor of the great state where she hails from.
While adopting her, Joy mentioned that there was one months pet insurance available. I was not quite sure how to sign "Georgia" up for that.  Would you please email me the details of how I sign up? (Of course hoping not to use it, but just in case)
We just LOVE our "Georgia." Our friends also adopted a dog that day and love her too! I attached of picture of her and will send you updates.
Thanks for all you do to help the defenseless dogs!
Sally, Pete, Sophie & Ellie Rosenberg