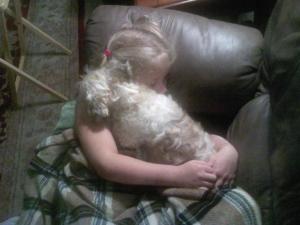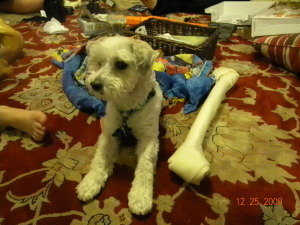 We were blessed to be able to add "BRADY" to our family August 2009 .  I don't know if you remember us but my sister in law and I drove up to your shelter back in Aug 2009 from Daytona Beach FL.  We were on  mission to find a small dog for our family.  We fell in love with 3 of your dogs and could not decide which to chose.  We left to go talk it over at McDonalds, during our absence one of the dogs we were wanting got scared when some people brought their "not so nice" big dogs in the shelter without announcing and dog commotion began.  One of the dogs we wanted got left in the raised sink and got scared and jumped – hanging himself….you gave him CPR and he lived.  My sister in law (Tammy) was heart broken and knew we couldn't leave with out all 3 so we did!
Our families are soooooo much better with these little new additions.  They do require more work than other dogs but they are worth it.  When they look in your eyes with complete love and gratitude it melts you!  ALL 3 dogs are loved more then they could imagine.  Even " Bruiser" the little guy who you did CPR on..he is awesome and healthy and house broken and spoiled.
My sister in law took two of the dogs I kept one- "Brady"a white cockapoo.  I had him fixed, a dental and groomed with in the 1 month of having him with us.  My 7 yr old daughter fell instantly in love- Brady is UNBELIEVABLE with her.  He just lets her carry him like a baby ALL the time! Really all the time, we joke and say he doesn't know any better but honestly, he probably doesn't.
Brady gets to go to the baseball field several times a week (I have a 13yr old and 11yr old Boy in travel baseball teams) and the kids there love him.  He gets to run and run and it is hysterical – not sure if he ever ran before!  🙂
He gets to sleep with my daughter at night in her soft warm bed…I am sure he feels like he has gone to doggie heaven.
I just wanted to update you on our dogs…they are so wonderful and loving.   We are so fortunate to have found your rescue.  Keep up the great work.
Sincerely,
Juli Vandehey