This was a feral kitten we rescued: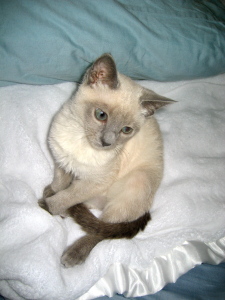 Hello!  We just wanted to update you on our adoption of 'China', she was an 8 week old Snowshoe mix.  We re-named her Olivia once we brought her home, although the only person to refer to her as Olivia is the vet at Cedar Animal Hospital in Richmond Hill.
Though she was nothing but shy and weary of everything around her, she didn't hesitate to follow me anywhere and everywhere around the house that my feet took me.  She trailed behind me like a little lost puppy, which, I must say, she has more dog traits than cat traits!
Besides her adorable little face, big blue eyes, and tiny as a whole-self, she has more energy than I've ever seen one animal have!  I nicknamed her 'Baby Munkin'.  I always joked with my husband that she looked like a baby spider monkey, and while running around the house full speed, she'd occasionally make a run-in with our older cat, Thor.  She'd arch her back up high and start walking sideways towards Thor and then run away in the same manner once she realized her wanted nothing to do with her.  (Munkin was supposed to be a combination of Monkey & Kitten.)  After her shyness wore off she made tons of hilarious squirrel noises as we call them.  She does not meow, but boy does she has a wide variety of noises all her own!  She is not your typical cat but my husband and I both absolutely adore her.
I'm able to call out 'baby munkin!' and no matter where in the house, whether it's under the bed, across the room, or sleeping in the clean clothes in the laundry room, she'll come running towards where ever I am.  It doesn't work for my husband, but I think it's just because I'm home with her all day, and have been since we brought her home from GARD.  When she isn't running around like an absolute nutter, she's the sweetest, cuddliest little thing there is.  Her purrs have not stopped!  She likes to rub her face on mine before she sits up on my shoulder on the couch or in my lap.
When it's time for bed, she knows it!  She loves a particular blanket on the bed, she kneads her two front paws and rubs her face on the blanket at the same time, purring louder than an old car for about 5 minutes before she finally settles down and sleeps with us for the night. As of two weeks ago she's fully up to par on all of her vet needs, and thank you for recommending us to Cedar, I really do love it there.  Dr. Jennifer said that she'll probably be a small cat, maybe 7-8 lbs.  She's just about 3.5 now.  This was a shock to us because our tabby cat Thor is about 18lbs!  We're so happy with our adoption, and we think what you and your staff do is amazing.
I'm attaching a picture since I remembered you saying you enjoyed updates on adoptions and pictures!  She's sittin' on her favorite blanket, so I thought it was appropriate!
Airiel Bailey