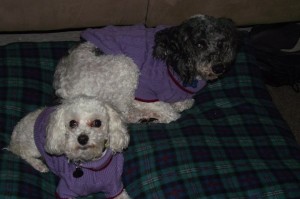 Little dog happy at last
By Rebecca Holland
Editor, The Claxton Enterprise
Jasper was looking at the camera, a slight magnetic smile on his furry little face. He was sitting in the Georgia Animal Rescue and Defence shelter in Pembroke – a year and half after his rescue from a horrific puppy mill in Macon, Georgia, one of the older dogs, age guessed to be anywhere from 4 to 8, and eyes cloudy with cataracts, blind to what we all see and take for granted. But, little Jasper, and we use the word little loosely, was happy.
A few weeks ago, I was sitting in my new home in Claxton, Georgia, my poodle, Buddy, on my lap. I had never really thought about getting another dog. No, well, I had thought about it, but just never really was going to do it. My job keeps me away and having just one day was enough, but I wanted to do something for Buddy. I just typed in the word poodle in a shelter search and the first photo that popped up was Jasper.
As I began to read about him,  I thought, you know, we could foster him.
I got to the shelter, and he came out and I knew, he was ours.
He is no longer called Jasper. His name is Barkley. He wears a sweater and sleeps on the couch, on a pillow and on my bed. He and Buddy hang out together when I am gone. He has not been outside much due to weather and I didn't have the right sized halter, and he wants to go out. For a blind dog, he is eager and enthusiastic. He jumps around, loves, and right now, we are dealing with some issues that he probably has had it for a while with his ears and of course, his eyes. But he doesn't seem to be bothered by it all.
He is happy and he has a new brother and a human companion.
I am used to a 7 pound poodle, and here is one that is almost 25 pound one.
It is different, but so far we are good.
I would encourage anyone to check out the older dogs – they can clean up good and play good and just be comfortable.