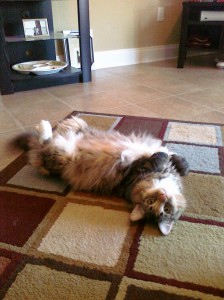 My husband and I adopted a precious kitten, who we named Molly, from the Georgia Animal Rescue and Defense (GARD) on February 19, 2010. She was one of a small handful of kitties you had at your facilities, which primarily housed dogs. Most of her siblings were orange and white, but she had beautiful coloring and markings, not to mention the sweetest little white socks on all four of her paws! We fell in love with her picture (which we saw on Petfinder.com) and were thrilled to find that she had not been scooped up and taken home by somebody else when we arrived at the GARD facilities! We knew she was ours as soon as she was placed in our arms.
We took Molly home, stopping at Petco along the way to get her all of the "essentials" (kitten food, cat carrier, treats, shampoo, claw caps, kitty litter, cat box, etc.). Once home, we set up our laundry room as her room. She quickly made herself at home and became a part of our family.
Over that past year, Molly has grown into a healthy, happy, playful kitty. She loves to play fetch with her various mouse toys, can do tricks for her kitty treats (sit, shake, lay down, and stand on two legs) and is fascinated by water! She enjoys long naps on her back and does extremely well on long road trips! She is all we ever wanted and so much more!
Thank you, GARD, for this precious addition to our family! It has been nearly year since we adopted her, and we haven't regretted it for a second!
Sincerely,
Heather and Josh Williams