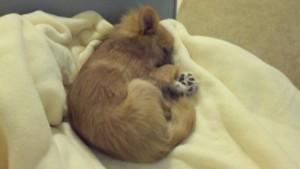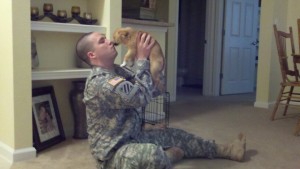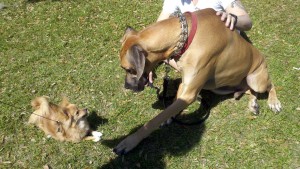 Hey Joy!
We just wanted to email you and give you an update on the little guy! :]
He adjusted really quick to being in our home. We stopped at Petsmart on the way home and got him a new bed which he fell asleep in during the cart-ride around the store. He sleeps in it all the time, it's become his safe-zone. He carries all his new toys to it and surrounds himself with all of his babies. He has taken a liking to one specific toy that's a little round pig, we call it his baby because he brings it everywhere! We have started him on Nutro Ultra for puppies which he LOVES! At first he was a little picky, but then took right to it and eats it with no problem. We also mix in a little wet food with the dry food which he loves as well. We also found some new treats that he likes! We got him Nutro Natural Choice Crunchies that are berry flavored and we also got him Chicken Blue Bits from Blue Buffalo. He really likes them both but we use the Blue Bits more for house training and the Crunchies more for just rewarded him inside. We also got him Antlerz which is a bone he really loves. We asked a few people for opinions on bones since Petsmart didn't have the Merrick brand and everyone has said that Antlerz are really good because it doesn't have little pieces that will break off or choke them so it was the only bone that made us comfortable to give him. We have started to crate train him for the night time which he has picked up really quickly on. The first night he wasn't happy about it, but then the following nights he just goes right into the crate and curls up. We put his piggy in there and his little blanket that he always curls up on so he is one happy pup.
We took him to the Cedar Animal Hospital on Monday for a regular check-up and to get his Bordetella shot. She said everything looked really good with him :] they did tests for both intestinal worms as well and said that it came up negative which made us very happy. We are going to Dr. Jennifer and she gave us a prescription for Sentinel. They put the Andvantix on for him that we got but they said when we start him on the Sentinel next month he can use that for both the heartworms and for fleas and ticks. We also brought him in yesterday to the vet in Sylvania for his rabies shot and to get him neutered. They took very good care of him! He slept for most of the day yesterday, but today he seems to be feeling much better. He's still pretty sleepy but he's been getting up every once in a while and has seemed much more like himself.
We have been trying to take him in the car as much as we can, even if only for a few minutes. He seems to have anxiety a little bit when he's in the car so we've been trying to find fun places to take him so he can learn that the car isn't a bad place. Even when we take him to the puppy park in our complex, we drive him there just so he can have someplace exciting to go in the car. He LOVES the puppy park. He runs around and chases us and loves to get his little paws muddy. My sister and brother-in-law are coming up from Florida for the weekend to visit and they have a chihuahua so I'm sure he'll love having another puppy here.
I've attached some pictures so you can see him in his new home. He loves his puppy naps! He'll run around and play with you then just go and plop into his bed.
We're in love with the pup. We're so happy to have him in our home!! Everyone keeps sending us text messages and phone calls asking us to send more pictures and asking how he is doing, they just absolutely adore him. Both Robert and I are so happy to have such an amazing animal to just spoil and take care of. We're getting the supplies for Robert to build him his ramp for the bed so we will have to send pictures when that is finished. We also wanted to let you know that we did end up changing his name. We changed it to Manuel but everyone calls him Manny. It seems to fit him really well and he seems to know it when you call him :]
We wanted to say thank you again for everything. We were both broken-hearted when we saw how upset you were the day we adopted him, but we just wanted to send an email to hopefully give you some comfort. We are keeping our promise and taking good care of him. Giving him more love than we ever thought possible. We're truly blessed to have him.
I hope everything is going well, we will definitely keep you updating with everything. I'm sure we will be in for a visit soon!
Taylor and Robert