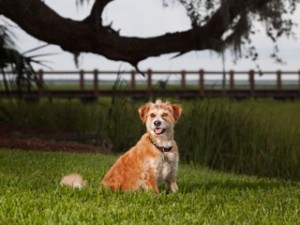 Hello Joy & Company.
I've been tardy in not getting in touch with you to let you know that our lives have been enriched with the adoption of Buddy (fka "Blitzen").
In June 2012, my wife and I were discussing getting a dog since I am now "retired". I think it was June 15, 2012 when my wife saw "Blitzen" in the Friday edition of The Savannah Morning News. We live on Skidaway Island (The Landings) and we drove out to Pembroke the next day to see "Blitzen" because my wife couldn't believe that he was "that cute". He was. We brought him home the same day. On Sunday, June 17th, we renamed him "Buddy".
It's been a wonderful year with Buddy. He's super smart. He's loyal, friendly, and most of all he's ours. When we were looking at him to adopt, he made it easy for us. I sat down in the grass and he came over and licked my hand. We understand Buddy (Blitzen) was one of five brothers in the litter and that you talked the woman who had the litter in handing the litter over to you guys. Thanks.
We often wonder what happened to Buddy's other brothers. If one of them was still waiting for a home, we'd take him in to be a companion for Buddy (and us too!).
Anyway, Buddy will be in the Savannah Morning News' Newspapers in Education Pet Calendar. He will be in the month of March 2014. The calendar runs from September 2013 to September 2014. I'm attaching two pictures of him. One when we had him about 2 weeks (he was about 5 months old when we adopted him) and the other was just a couple of weeks ago which was taken by a professional photographer at his "photo shoot" for the calendar. Buddy is now about 19 months old.
Thanks again for publishing Buddy's (Blitzen's) picture last June, 2012. We sure love this little guy.