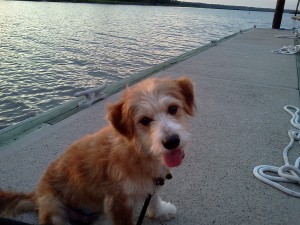 Hi.
I've been tardy in not sending a picture of the dog we adopted at GARD. His name at the time was "Blitzen". I believe you told my wife and I that he was one of 4 or 5 of a litter of puppies that were delivered to GARD by a "dog hoarder". Anyway, just wanted to send you a picture of "Buddy". He's been a wonderful buddy to my wife and I. We just love him to death. He sits, stays, comes. He's just a fabulous, sweet dog. People stop us wherever we are to ask about him, etc.
We've been thinking of Buddy's (Blitzen's) other brothers and do sincerely hope that they've all been adopted to good homes.
So, here is the picture. Buddy said to say "hi, thanks for letting me go with Mike & Ginny O'Neill".