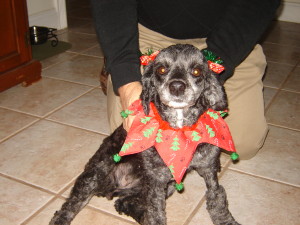 Merry Christmas to all of my friends at Georgia Animal Rescue and Defence. This is Nikki (formerly Colette). I wanted to say "Thank You" for taking care of me until my new Mom and Dad could bring me home.
I'm having a great time here in Florida. I have a huge yard to play in. I play with my toys, dig holes, and chase the squirrels and birds. I've even chased Miss Kitty up the tree a couple of times. We take walks together, and rides in the car. At night I sit with Mom and Dad watching TV.  It's great fun!
I like my new vet, and my groomer. She did a wonderful job of making sure I looked perfect for my Christmas picture (see attached).
Again, I want to wish all of my friends there a Merry Christmas, and hope all of you find great homes in the New Year.
Best Wishes!
Nikki