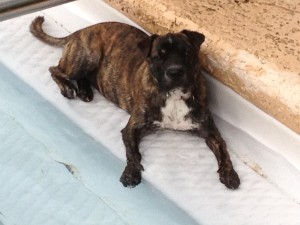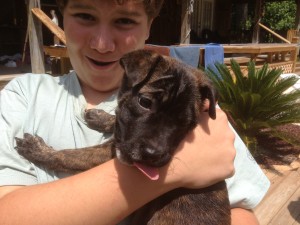 Hi Everyone at GARD.
Thank you so much for letting us make one of your four-legged  family members a permanent member of our family. We adopted Nuggette on June 20th of this year. She is a brindle/black mixed breed puppy, who looks like she could a mix of several different breeds depending on the angle, lol. She is beautiful and has been the perfect addition to our family. She has put the pep back in the step of our older dog Cyrus, who was also a rescue dog–and she certainly keeps us hopping. She has a wonderful disposition, and loves to snuggle when she is not running circles around us all at warp speed. We are so grateful for her, she has stolen our hearts and we look forward to many, many happy years with her.
I wanted to send you a few pictures – one from the day we brought her home, one chillin' on the steps of the pool, one of her and our son, and one from our camping trip where you can see  her and Cyrus chillin' at bed-time.
Thanks again for everything you do,
Tammy P