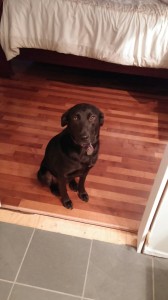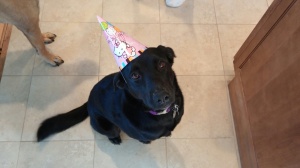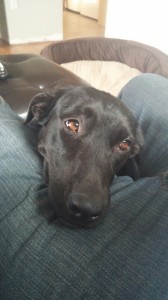 We adopted Josie in November from one of your partner rescues in New Jersey, Love to Live.  I know you guys see a lot of dogs come through your shelter, but she was with you a long time.  Her earliest papers say she was 10 months old and she was 2 1/2 when we got her, so almost 2 years with you.  I have been meaning to contact you to tell you that she's very happy and loved in her new home and ask you if you know anything about her history and how such an adorable little girl could have not been adopted in such a long time in the shelter.
When we met Josie for the first time, she was such a happy little girl and loved to give kisses.  We were looking for a dog that would get along with my boyfriend's alpha personality dog, Maddox, but also a little girl to put him in his place.  After we met her, we brought Maddox to meet her.  They seemed to get along fine, and we loved her, so we signed the papers and brought her home.  As soon as we let them loose in the back yard together, they just ran and played together until they tired each other out.  Maddox has about 20 pounds on her, but she can still wrestle him to the ground and pin him and she can outrun him any day.  They are perfect playmates and best friends.  She is the most adorable little girl and so well behaved.  Thankfully she was already housebroken when we brought her home and could be trusted to be loose in the house without destroying anything.  She is so smart and very quickly picked up on the rules of the house.  She is so loving and wants nothing more than to get a hug and kiss from you or cuddle up on the couch with us.  I attached a few pictures of her.  We celebrated her third birthday on Sunday and she tolerated a birthday hat long enough for me to take a picture.  She knows how to look cute and she gives you what we call "Josie eyes" that just melt your heart.
I don't know how such a perfect dog could have waited so long to find a forever home, but I'm glad she did.  We are so happy to have found such a good girl.  If you remember that little face and anything about her, please let me know.  All of these dogs have a story and it's always a mystery what their past was.  Maddox is also a rescue from the south and was also adopted in NJ, but that's all we know about him.  I know you guys are very devoted to finding these dogs a good home, so I'm sure it's good to hear about their happy endings.  I appreciate your time if you can remember anything about her.
Thank you,
Heather